Mobile Technology - Changing the Way how Guests and Staff Interact
By Michaela Papenhoff Managing Director, h2c | January 08, 2012
Mobile isn't "producing"? Mobile is too small to invest money now? It is not a priority task on your list? Ian Carrington, Google's search engine director of mobile, made it very clear to the Travolution Summit audience in October 2011: "No mobile strategy, no future", he said. This statement is backed by the fact that searches from mobile devices account for 14% of Google's traffic; up from 10% in the previous year. 50% of the web interactions via a mobile phone start with a search query – have you thought about the impact on your search engine optimization/ search engine marketing strategy as search results are not identical with a "normal" web search?
This year, combined shipments of smartphones and tablets will outperform those of PCs. Next year, the growth of smartphones and tablets is expected to almost double vs. 2011 (Source: Morgan Stanley, The Economist). Gartner expects Android to continue outperforming Apple's iOS by almost triplicating its worldwide mobile communication device sales in 2015. Priceline is expecting a 50% increase of smartphone users over the forthcoming 12 to 18 months (that's why they have launched HotelTonight – a same-day booking app for the iPhone). The most recent PhoCusWright European Consumer Travel Report revealed that although today mobile phone users are using their phone mostly for sending SMSs, making photos/ videos, emailing and browsing the Internet, mobile hotel search and mobile bookings are expected to double over the next 12 months.
How does mobility impact hospitality?
Look at the graphic below. The impact of mobility on hotels is multi-faceted: sales and marketing, operations, guest services and customer retention management are the most relevant areas that require restructuring as the mobile strategy of your hotel/ hotel chain is evolving.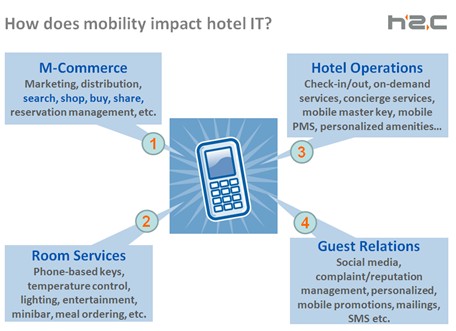 The question who should be involved in a mobile strategy development process is not always easy to answer as mobility spans across all guest touch points at the hotel (points of sale), distribution channels, hotel operations, pre- and post-stay guest communication activities and other guest relations subjects such as reputation management. Mobility affects the search, shop, buy and retain process in all areas and guest interaction actually overlap throughout the value chain where every guest touch point adds to the entire experience (see graphic on mobile guest interactions below). Although maybe a challenge to hotel management, it should not turn out to be a threat: internal communication and coordination with other departments are more crucial than ever. Open discussions with all parties involved, the definition of clear responsibilities and procedures how to go ahead are a good basis for success, e.g. involving sales, marketing, revenue management, operations, IT and most likely accounts (e.g. for future mobile payment options). Once the mobile strategy brainstorming has been finalized, a task force should be made available to structure the ideas and oversee the implementation process. The management's major task is to translate the vision into opportunities, set the directions (e.g. KPIs) and instill the mobile "spirit" so that the team knows where to head to.
Please Login to read the full story, or you can Get Free 30-Days Hotel Business Review
The Hotel Business Review articles are free to read on a weekly basis, but you must purchase a subscription to access
our library archives. We have more than 5000 best practice articles on hotel management and operations, so our
knowledge bank is an excellent investment! Subscribe today and access the articles in our archives.