Providing the Path for Meetings Professionals to Move Forward in These Uncommon Times
By John Washko VP Exhibitions & Convention Sales, Mohegan Sun | September 20, 2020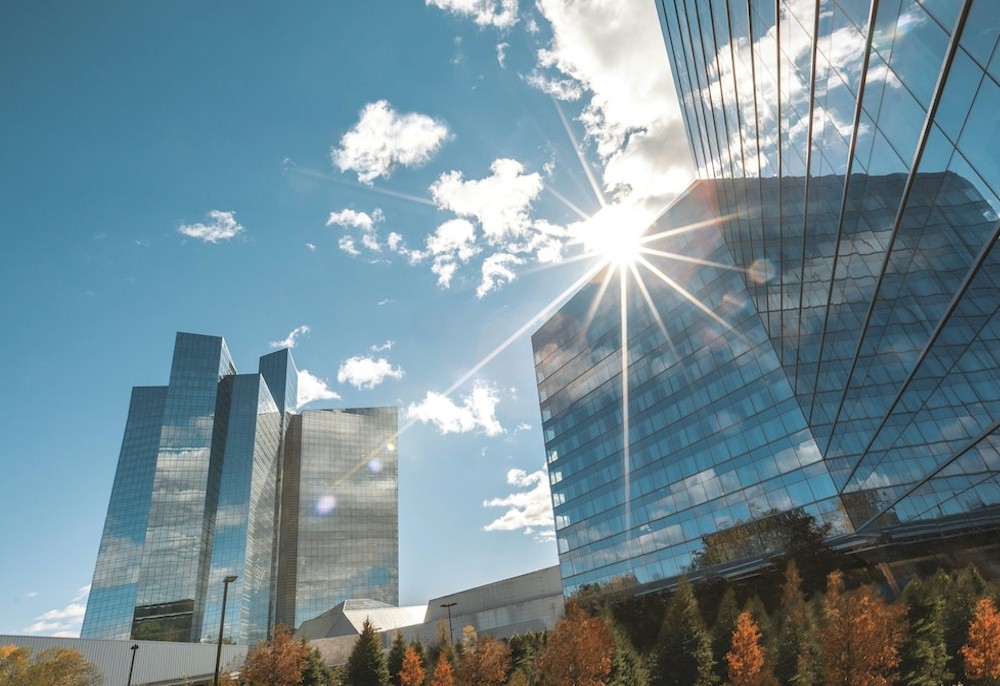 As meetings & conventions professionals and the resorts, hotels and entertainment destinations we operate within adjust, adapt and evolve in uncharted waters, it's imperative for robust resources to be put in place for group planners and partners of varying types.
This responsibility falls on both industry organizations and travel partners (airlines/airports, resorts, hotels, cruise lines, DMO's, DMC's and A/V companies, to name a few). An example of our industry organization producing great work is the Events Industry Council (EIC) APEX COVID-19 Business Recovery Task Force, which recently released the Meetings and Events Design Accepted Practice Guide.
This document is focused on re-establishing trust with decision makers who approve meetings/events, planners who coordinate them and meeting/event attendees. It also speaks to an important new dynamic: everyone has responsibilities to keep each other safe and healthy. The host venue, the organization or association planning the event and the attendees all now have skin in the game. The Code of Conduct in this guide details these new responsibilities.
All major hotel brands have created safety protocols. One example of a dynamic collaboration is Hilton's CleanStay, which is a collaboration with Lysol and the Mayo Clinic Infection Prevention and Control Team.
At Mohegan Sun, our reopening plan started in mid-March, the day after we closed for the first time since we opened our doors in 1996. As VP of Expo & Convention Sales for one of the largest and most impressive integrated entertainment resorts in the United States, my role was to be actively involved in the comprehensive property-wide health and safety initiatives in response to the global health crisis. At the same time, I had the task of working with a small team of Sales & Convention Service Leaders in developing a MICE roadmap for planners that left no stone unturned when it came to planning and executing a safe, successful and productive event.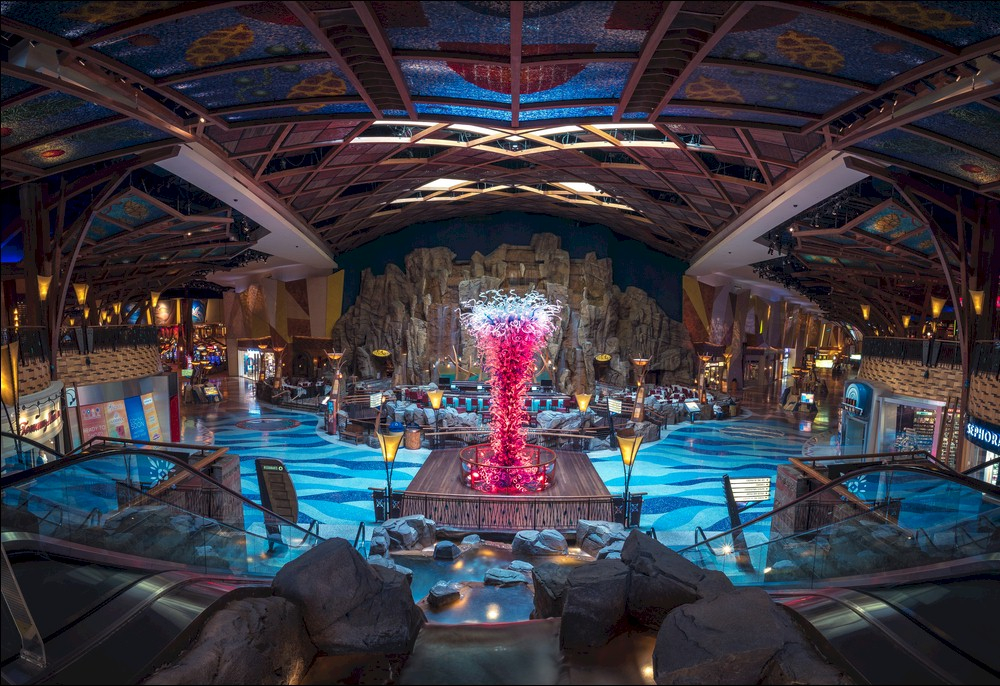 The backbone of any MICE-specific safety protocols starts with the overall safety plan. Resorts & Hotels are never built to close. These are 24/7/365 facilities; so, just the logistics of closing and reopening are a major undertaking with a myriad of considerations. A significant advantage for us is our Tribal Resources. We are located on the Mohegan Reservation and have access to the resources of the Tribal Government, which includes an established health department. We are able to utilize the knowledge and guidance of our health department, which worked in conjunction with state & federal health organizations in establishing our safety guidelines and protocols. More on this later.
As an industry, if we can provide answers and guidance on the daunting number of new safety questions and considerations our meetings partners face, with the end goal being to ensure our clients feel comfortable and safe at our meetings destinations, and we can increasingly showcase and communicate that, then the odds of our continued success in the meetings & conventions industry increases substantially. In this article, I will cover a few key areas that can prove to be vital as we navigate through these new challenges.
Developing and executing a strong COVID-19 Resource Center for group and conference planners is crucial. Everything from your venue's overall health and safety initiatives to specific information on how your banquets and catering team are operating within new systems and protocols should be covered and easily accessible. At Mohegan Sun – a 5.5 million square-foot entertainment, gaming and resort destination located on the Thames River in Mystic Country, Connecticut – an extremely comprehensive safety plan was initiated for a June 1, 2020 reopening after temporarily closing for more than 70 days.
This plan included the installation of non-invasive thermal temperature checks at all entrances, UV light disinfecting technology in air handler systems, mask requirements for all team members and guests, plexiglass dividers at various transactional locations, highly increased hand sanitizer stations and disinfecting products, concise and colorful signage to encourage physical distancing, enhanced safety and physical distancing measures throughout all restrooms and so much more, including hotel specific measures that will touch on momentarily. All of these property-wide measures are packaged in to information we provide and communicate upfront to our clients, which includes dedicated pages on both mohegansun.com and meetings.mohegansun.com.
In addition to leveraging the general safety plan and measures for your venue or property, hospitality professionals need to outline the major adjustments to specific areas that group planners are most concerned about. These areas and their adjustments should include, though not be limited to, the following standards.
Banquets and Catering
Full capacities of any venue are not going to be possible again for some time, so the adjustments on these limitations and the social distancing protocols that will exist should be clear and showcased through floor plan diagrams and imagery. Pre-function spaces should have one-way entry and exit lane signage in the form of floor clings and poster boards. As many registration areas as possible can be utilized also, to ensure and increase physical distancing upon arrival. Groups can also be staggered to reduce bottlenecks in certain areas, such as elevators and seating arrangements.
Adapted banquet menus can be incorporated and include such changes as:
Server attended coffee stations.
Server attended buffet or action station.
Individually packaged food items.
Individual vessel hors d'oeuvres.
Served plated lunches.
Custom small plates stations.
You can review Mohegan Sun's revised banquet menus.
Additional tools that can be implemented include utilizing general sessions for catered meals, and ending break-out events at staggered times to limit the congestion of common areas.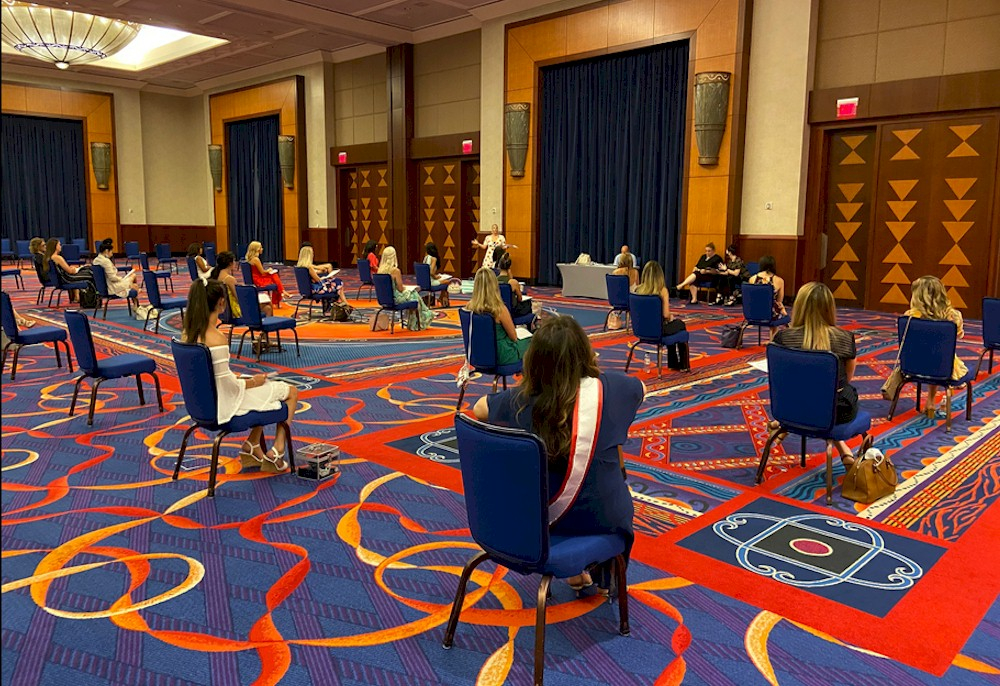 To ensure a safe, enjoyable time for your clients and their guests, an extremely clean and smooth-running hotel is paramount. To achieve this during COVID-19, below are the necessary actions:
Keep closed or limit capacities in all pools and spa facilities.
Execute enhanced and robust cleaning and disinfecting measures (in line with CDC guidelines) between guests so that you're able to set visitors minds at ease.
Implement housekeeping adjustments that may have to include the temporary elimination of housekeeping service on multi-night stays, unless personally requested.
Ensure all housekeeping staff wear proper PPE daily and wash hands at every exchange and opportunity.
Room service drop off being made outside of rooms.
Socially distanced markers for check-in lines and having every other check-in station closed off.
Plexiglass dividers at hotel check-in desks.
Hotel keys disinfected prior to each new check-in (bell carts disinfected after each use as well).
Utilization of fog/spray disinfectant for all in-room surfaces including sheers, curtains, shower curtains, bed covers, chairs, desks and more.
Glassware and mugs should be replaced with disposable ware in guestrooms.
Extra blankets and pillows available upon request only.
Elevators limited to four guests at a time.
Express check-out availability via in-room TV, SMS or key drop boxes.
Keep valet parking on pause until a later date.
Group Specific Initiatives
When it comes to group specific efforts, a great deal of consideration must be given to the reality that not everyone will be able to attend a function in person due to personal circumstances during the health crisis, or for separate purposes. Hybrid meetings will be the industry's new norm for the foreseeable future. There are many who believe organizations will never move away from the hybrid meeting solution, even after this current pandemic is behind us.
Due to this, it becomes imperative for an in-house audio/visual team to provide excellent virtual event capabilities and connections. This should include two-way, real-time video conferencing, webcasting and recording for broadcasting to a large, dispersed audience and the ability to have simultaneous interpretation so that attendees understand each other in real time. The overall ability to present fluid hybrid events should also be a top feature in a venue's COVID-19 Resource Center. It all starts with the capacity of the internet backbone of optical fiber trunk lines into the facility.
And similar to the hotel measures, rigorous cleaning and sanitation needs to be implemented, especially for high-touch surfaces, restrooms, escalators, handrails, sitting areas and even on all shared AV equipment. Additionally, event check-ins should feature distance markers and spaced check-in stations.
Room layouts and meeting sets should also incorporate reasonable physical distancing based on availability.
Outdoor Options
In building on group specific initiatives, utilizing any outdoor meetings and event space is a very beneficial offering to have. For my team, we operate in the northeast, so during the warmer months we are able to utilize some fantastic outdoor spaces at either of our two hotel towers, and at our largest convention center, the Earth Expo & Convention Center. Weather can present unknown variables for outdoor events, so rain dates and indoor back-up plans can be instituted.
Trade and Consumer Show Changes
Our team has detailed a series of measures that will assist in the safe and successful execution for larger scale events. I have noted plexiglass dividers a few times in this piece and again here for trade and consumer level events – they should be utilized between team members at ticket sale stations and the guests on the other side.
Larger aisles with one-way foot traffic should be a priority here as well, and extra spacing between vendor booths with six to eight feet drape dividers should be present. Standing and engagement zone stickers placed on the floor in front of each booth can be an effective reminder for guests to keep some distance with one another.
Our tradeshow plan examples can be reviewed here.
By this point, one common and vital theme has probably taken shape – and that is cleaning, cleaning and more cleaning. Any event should have rigorous cleaning and disinfecting protocols in place, though for larger consumer and trade shows, it's even more important to have a staff on hand for frequent cleaning schedules to go along with multiple sanitation stations set up for all aisles. One idea is to have sanitation stations placed at the beginning and end of each aisle and at any cross aisles, as available.
And lastly, clear, helpful and sufficient signage always provides a nice layer of communication for larger events.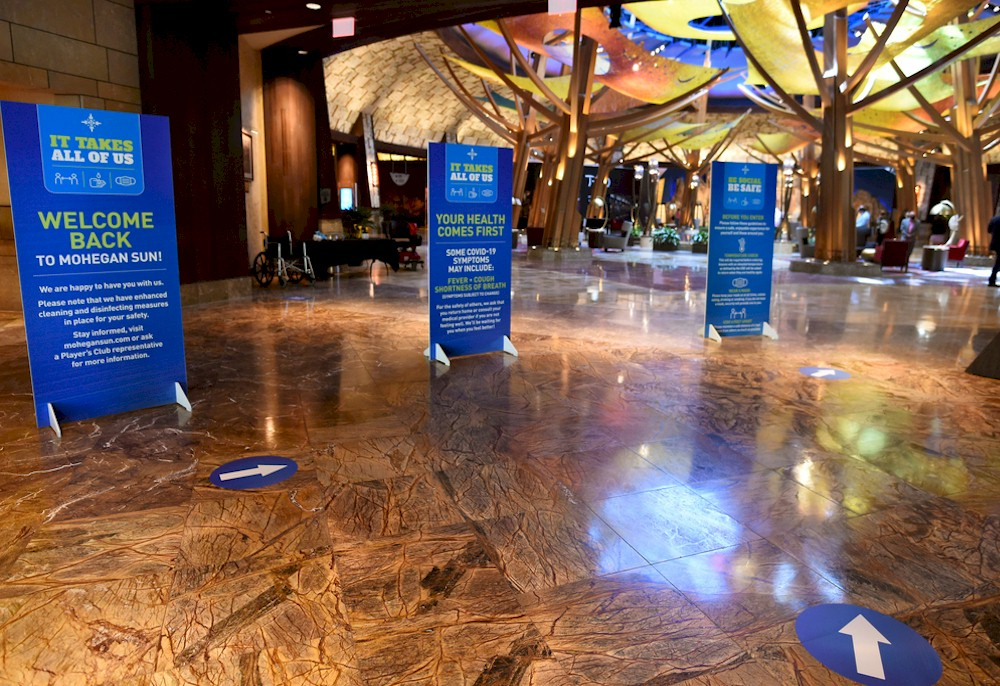 Other key focuses for group planners looking to organize functions for all sizes in the current business environment, especially for venues that exist within an integrated entertainment resort such as Mohegan Sun, would include factoring in dining, nightlife and retail offerings. It is important to touch on each of these offerings and the safety measures that exist in these spaces – as well as providing up-to-date information on any offerings or amenities that may still remain closed. If your venue operates within a city or area that has a fair amount of additional activities (dining and entertainment included), up-to-date information on these area attractions can be provided by the local DMO/CVB to clients.
At Mohegan Sun, our 10,000-seat Arena regularly hosts global acts from Justin Timberlake and Jay-Z to Bruce Springsteen and Dave Matthews Band, not to mention various professional and college sporting events. This high-profile venue does remain closed to the public for the time being, though it is also currently operating as a 'bubble' residency for both Bellator MMA and SHOWTIME Boxing for each promoter's string of nationally-televised fights. The original timeframe was from mid-July through late September.
The ViacomCBS team has been so pleased with our facility's safety protocols that there are current talks on extending the residency through the year's end. The successful execution of these residencies has allowed us to further attract opportunities, both in Entertainment and Meetings & Conventions, and it has also allowed us to boost our PR and marketing messaging by informing our audience of this impressive capability we have. The key here is to be flexible and to adapt when forces largely out of our control are presented!
These updates, both the positive (what is open and boasting about success stories) and not so positive (some amenities still remain closed for health and safety purposes) should be wrapped into the resources provided to clients.
In ordinary scenarios, leveraging your hotel or property's restaurant and nightlife venues for meetings & conventions clients would be an important option for prospective clients. This strategy shouldn't be put on the backburner, as long as the safe operation of such offerings are in place. To further illustrate this point, imagine your local Chamber of Commerce is interested in a socially-distanced conference, and they would like to also organize a private dinner during the evening hours just for their new honorees and award winners.
If restaurants at your destination can accommodate a private buy-out experience, then this serves as quite the bonus to a group planner. Moreover, it allows your team to prove a "show must go on" attitude in what is truly a very different world than we are all used to. Again, being flexible and adapting as much as possible is crucial in our industry, now more than ever.
Meetings professionals should also make sure to broadcast the health and medical guidance and resources they have utilized and/or have at their side. This is a key aspect of a resource center, and it will likely prove to be high on the list of factors that make partners feel comfortable about choosing one destination over another. At Mohegan Sun, which sits on centuries-old Mohegan land, the Mohegan Tribe has a health department supporting their tribal members and workers, as well Mohegan Sun as a whole. And when I say Mohegan Sun as a whole, that factors in thousands of team members and millions of guests every year.
These medical officials have the knowledge, tools and direct pipelines to additional health agencies and authorities that are of vital assistance in this day and age. When we speak to and provide tours to group planners, and present them with supplemental materials about our vast and versatile options (video content included), we are positively showcasing how the Tribal Health Department has served as a resource, guiding every decision we have made recently at Mohegan Sun – and further communicating how that guidance will always remain. In my experience during my company's bounce back, I have certainly noticed the high importance that clients have for this type of support mechanism.
It's certainly possible, and likely plausible, that most meetings destinations and venues don't have their own on-site medical experts or division on site. To fill this void, the development of a health & safety task-force who is working directly with and taking guidance from a state or county health department could be implemented within any business and communications plan.
As I think back to March of this year and the days and weeks that followed, I remain amazed and hopeful. These were and still very much are difficult times, but I have been blessed to be a part of an impressively resilient team that operates in an equally resilient region. I have seen a great deal of this resiliency for our industry across the globe as well.
Our world during this time is constantly evolving, and as meetings & conventions professionals, we will need to continue to adjust our framework as we move forward. We are all in this together, navigating the future of meetings and events and helping to steer our venues to the steadier times that lie ahead.

HotelExecutive retains the copyright to the articles published in the Hotel Business Review. Articles cannot be republished without prior written consent by HotelExecutive.