Game Changing Design
Forethought to Help Create Meaningful Guest Experiences and Capture Market Share
By Paula J. Azevedo Principal, dash design | November 08, 2015
A wise man by the name of William Blake once said, "The true method of knowledge is experiment." William could not have been more correct, particularly when it comes to the booming, hypercompetitive hotel industry, in which knowledge constantly needs to be tested. Last year alone, the lodging industry saw more than $30 billion worth of investment. Each of these hotel owners, developers and operators that have put forth capital will undoubtedly be looking for a return on their investment.
Tapping the hands-on knowledge of design professionals is one way that hoteliers can gain an edge and, therefore, capture market share. Smartly conceived and executed design has been proven to support investors' financial objectives and create memorable guest experiences. These success stories have propelled hotel industry executives to respond by spending more on meeting, or even surpassing, guest demands so that they can keep ahead of their competitors.
Engaging, guest-pleasing design is far more than what a guest sees, however. To be effective, it must be the end result of extensive strategic planning, thoughtful analysis and a partnering between owners, developers, branding experts and a decision-making team that has deep expertise with the ins and outs of hospitality design. It should also be forward thinking, designed not simply for today, but to anticipate guests' needs for many years to come.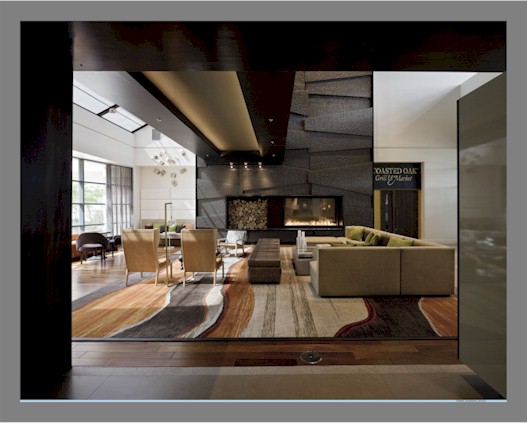 Lobby of the Baronette Renaissance Hotel in Novi, MI
And it's not where the guests lay their heads. Smart design can help hotel owners, developers and investors maximize the number of touch points and opportunities within each visit through flexible spaces that serve multiple purposes. The goal is to capture the guest at their hotel versus having them leave for an experience elsewhere. Ideally, these experiences "wow" them and create a buzz and a lasting emotional connection.
Perhaps a guest lingers in the theatrical lobby and checks out an art exhibit within; has a few drinks at the bar and lounge while listening to live music; checks in with the office from the communal workstations by day and returns that evening for a demo by the restaurant's signature chef; or dines on-site multiple times, thanks to concept restaurants that go beyond the typical hotel dining experience. Maybe they share photos of those memorable moments on social media, talk about their stay with a friend or colleague or return to the hotel on their next visit to that city. As word spreads, so does the impact for the brand. It all dovetails together -- mission accomplished.
Please Login to read the full story, or you can Get Free 30-Days Hotel Business Review
The Hotel Business Review articles are free to read on a weekly basis, but you must purchase a subscription to access
our library archives. We have more than 5000 best practice articles on hotel management and operations, so our
knowledge bank is an excellent investment! Subscribe today and access the articles in our archives.