Innovative Design Shapes Guest Experience at eforea: spa at Hilton
By Tyra Lowman Senior Director of Spas - Full Service and Luxury Brands, Hilton Worldwide | July 15, 2012
When creating a global spa solution for our owners and an enhanced experience for our guests, our main design challenge was to create a consistent experience for guests traveling around the world, while still allowing for local and cultural flexibility.
To ensure a consistent guest experience, we developed a collection of iconic design elements that can be found at all eforea: spa at Hilton locations including the Arrivals Lounge, Changing Lounge, Gallery, Transition Lounge and Therapy Rooms. The journey from one space to the next prepares each guest for the relaxing experience that lies ahead and provides a seamless treatment experience. With each of these mandated signature design elements, we provide hotels with standards for the function of each space and performance specifications of materials that are used, but allow local designers to interpret the design to source local materials, finishes, and manufacturers that are respective of their surroundings:
Additional details on the iconic design elements as follows:
Arrivals Lounge
eforea Branding Panel – The eforea branding panel is backlit and positioned above the front desk.
Retail Universe – These retail display units are designed to enhance the guest shopping experience through specialty shelf depth, sizing, display lighting, and product information centers. The merchandising specifications for each product assortment is clearly defined and presented based on the treatment journey.
Travel Bar – This interactive retail "island" was designed to live in the center of the arrivals area and act as unified merchandising schematic for travel sized retail assortment as well as encouraging the guest to "play" with and sample the products.
"Emerge Brighter" Wall Panel – This self-reflecting mirrored wall feature includes a lighting element where the guest appears brighter as they exit the spa into the arrivals area.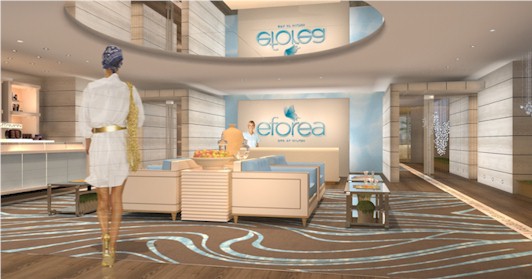 The customized journey of every guest begins at the Arrivals Lounge
Changing Lounge
Please Login to read the full story, or you can Get Free 30-Days Hotel Business Review
The Hotel Business Review articles are free to read on a weekly basis, but you must purchase a subscription to access
our library archives. We have more than 5000 best practice articles on hotel management and operations, so our
knowledge bank is an excellent investment! Subscribe today and access the articles in our archives.