Key Trends Driving and Shaping the Construction of Hotel Properties Today
By Bill Wilhelm President, R.D. Olson Construction | May 17, 2020
Due to the continued growth of U.S. tourism and the nation's progressive economy, the hotel industry is poised to experience steady growth and opportunity in 2020. More specifically, hotel construction – which makes up $16 billion of the nation's GDP – is projected to continue to expand over the next five years and increase by 0.7% this year, according to IBIS World.
As a result, hotel owners and developers remain bullish, but cautious, and are open to exploring and creating opportunities for hotel development across various geographic markets with the overarching goal to create a social heart for travelers and locals alike. Here's a look at key trends driving and shaping the design and construction of hotel properties today and strategies general contractors are applying to help mitigate rising construction costs and create thriving destinations that provide optimal return on investment for hoteliers.
Key Drivers of Hotel Construction
Despite the steady rise in construction costs and developer uncertainty, mainly caused by trade and tariff concerns, the U.S. hotel construction pipeline continues to grow 6% by projects year-over-year, as reported by Lodging Econometrics. In fact, if all projects come to fruition by year end, 2021 will be the highest count of hotel development in past last decade. The following are key trends driving hospitality construction.
1. Growth of Secondary and Tertiary Markets
Due to the low supply and high demand of quality opportunities in primary markets, such as Manhattan, New York and San Francisco, California, secondary and tertiary markets have become increasingly attractive to investors. This is due to their high population growth, stable unemployment rates and lower cost of real estate. As a result, investors are continuing to explore second and tertiary markets where they feel they can be most competitive.
These markets, which have come to the forefront over recent years, include Indianapolis, Kansas City, Charlotte, Atlanta and Salt Lake City, to name a few. As developers and investors continue to explore new opportunities, hotel construction in secondary and tertiary markets will become tighter and more competitive.
2. Increased Entertainment and Sports Venues
Live professional sports and entertainment venues continue to populate major U.S. cities and are often used to encourage teams to relocate to a new region. For example, this year and on the West Coast alone, two state-of-the-art sports venues are being built for the NFL including the SoFi Stadium in Los Angeles and Allegiant Stadium in Las Vegas. As this trend grows, we're seeing the introduction of new arena districts which are driving a need for hotel development and local renovations – including the $15 billion restoration of the Los Angeles International Airport (LAX) – to serve the influx of visitors.
For example, to better serve Los Angeles' traveler demographic, R.D. Olson Construction helped re-envision a 1950s office building into the H Hotel, a dual-brand 12-story hotel conveniently located adjacent to LAX. Catering to the locale, the adaptive reuse project features a transfer lounge on the 11th floor with seating, showers, lockers and other amenities for those awaiting flights and provides guest access to a rooftop deck complete with picturesque views of the ocean on one end and airport runways on the other.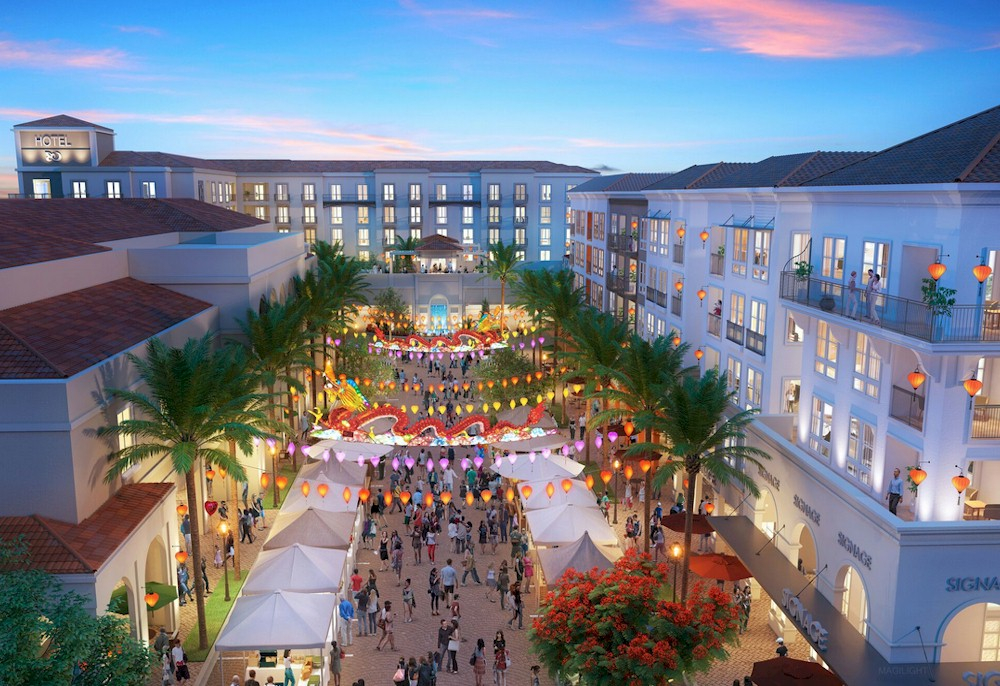 Live-Work-Play at Bolsa Row, a mixed-use property in Westminster, California
3. Uptick in Live-Work-Play Destinations
Research shows that modern consumers are in search of vibrant spaces to network and socialize and are drawn to multi-functional destinations that serve as a central hub to live, work and play. This trend has created a growing demand for hotel properties that can be seamlessly fused with multifamily communities and other offerings including retail, restaurants and entertainment. When done successfully, these environments evoke a memorable guest experience and helps set the destination apart by creating unique internal communities that provide visitors with a sense of place and belonging.
Integrating property types also provides myriad benefits for developers and the local neighborhood. These include lower infrastructure costs, increased tax revenue, revitalization and the opportunity to infuse new, walkable communities that help reduce emissions from transportation, conserve open space, and create a vibrant destination that stimulates economic growth for years to come.
An example of a project designed to seamlessly bring two property types together with key community offerings is the anticipated Bolsa Row, a mixed-use property in Westminster, California led by R.D. Olson Construction. Slated for delivery in winter 2021, the project is designed to be a gateway to the region's Little Saigon District, which is home to nearly 190,000 Vietnamese Americans. The mixed-use development will feature a five-story, 144-room hotel complete with restaurants, a bar and lounge, pool deck, a wedding venue and an event lawn and celebration bridge that connects guests to the community's festival street, a lively pedestrian-friendly promenade.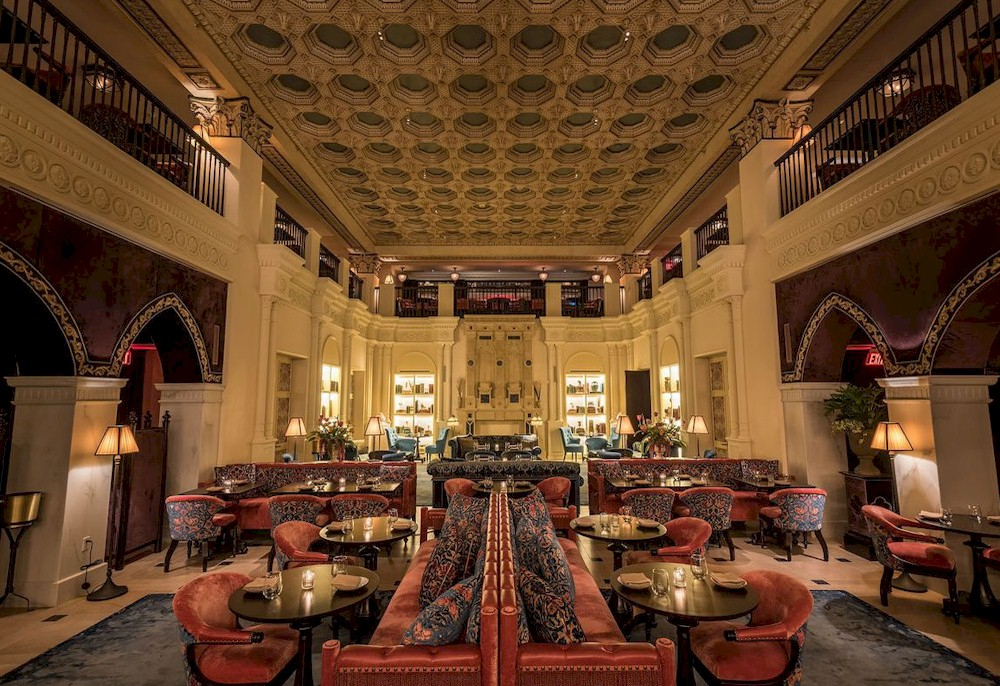 Adaptive Reuse: The NoMad Hotel in Los Angeles, California
Adaptive Reuse: Historic Landmarks to Hotel Destinations
Another trend driving hotel construction is the demand for rehabilitating historic landmarks and older buildings into hotel properties that offer one-of-a-kind experiences and nods to the history and culture of the surrounding area. Examples include abandoned or outdated buildings that tell a region's narrative and provides a level of charm new hotel developments cannot replicate. These spaces may include office buildings, schools, factories, warehouses, hospitals, among others.
While the main benefit of adaptive reuse remains the ability to tell a unique story, there's also a host of economical and sustainable benefits. For one, adaptive reuse projects can be more economical than ground-up construction as the process typically reduces high costs associated with new construction and land purchases. Revitalization also helps alleviate concerns with energy consumption caused by the production of new construction materials.  The availability of federal and state tax credits for historic renovation also incentivizes builders and developers to fund and keep projects on track.
The key to imagining successful adaptive reuse projects is having a team that can help determine what parts and pieces of a building have historical value. By understanding the city's historical preservation requirements and identifying ways to preserve and enhance the space and its features, successful adaptive reuse can tell a powerful story. In the case of historic landmarks, adaptive reuse is truly an art that requires a builder and project partners who are well versed in preservation strategies to collaborate on how to mitigate construction costs through alternate solutions and best-in-class construction practices.
In 2018, R.D. Olson Construction completed one of Los Angeles' most anticipated renovations: the conversion of the historic Bank of Italy Building into The NoMad Hotel, a world-class hotel, bar and restaurant. The firm brought the client's vision to life by creating a destination that respects the stately interior of the building's original design and pays tribute to its historical roots. During the renovation, R.D. Olson Construction was careful to match the original materials used in the Bank of Italy building – marble, terracotta and wood – to maintain its historic integrity. The firm also leveraged its relationship with The Los Angeles Conservancy, a historic preservation organization, for guidance and counsel throughout the restoration process.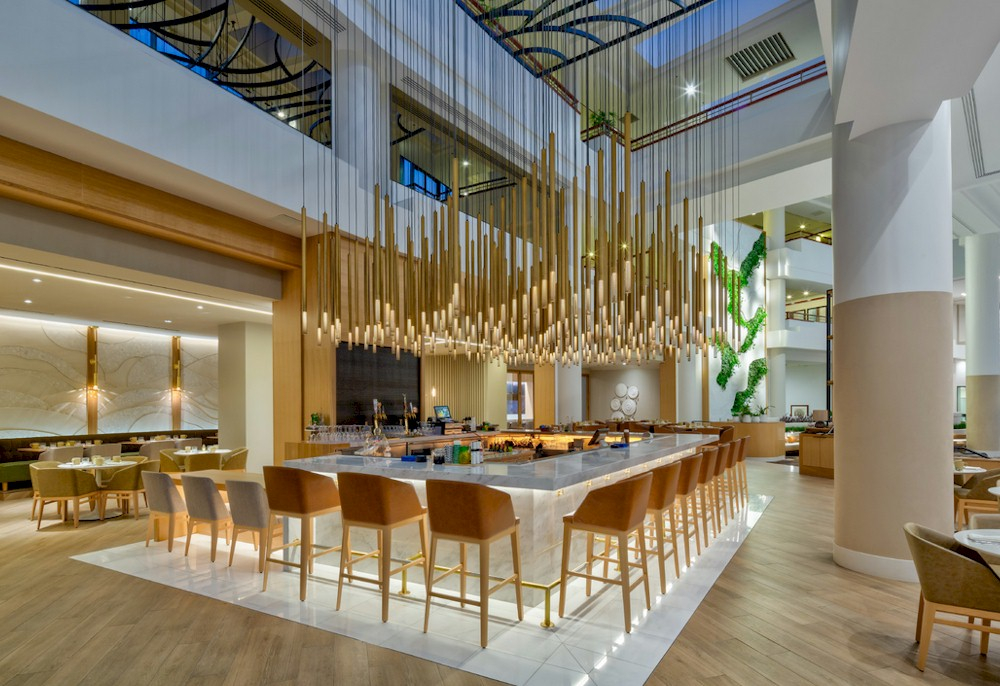 The Lobby of the Westin Downtown Long Beach in Long Beach, California
Lobbies Take Center Stage
As travel demographics evolve and consumer preferences shift, we're also seeing an increased focus on the design of hotel lobbies to enhance the guest experience. More than a waiting room or pathway to the elevator, lobbies create the arrival and departure statement for guests and have become a desirable destination of their own. A social hub for residents and travelers alike, lobbies are now competing with coworking environments and cafes as go-to spaces to work, network and socialize.
Often dubbed "lifestyle lobbies," these spaces give hotel builders, developers and designers freedom to experiment and create an original and social atmosphere that leaves guests coming back for more and locals claiming their new home-away-from-home. To imagine or reimagine successful lobby spaces, hoteliers must engage project partners who can not only help identify and successfully bring to life the desired guest experience but conduct demographics research to unearth the needs and desires of the locale. Doing so helps to shape the creation of authentic and synergistic spaces, while also anticipating and navigating challenges in real time – keeping projects on track and budget.
For example, while completing the 8,000-square-foot lobby renovation of Westin Downtown Long Beach, R.D. Olson Construction decided to divide the project into two phases to successfully complete the project with minimal impact to hotel operations. The division of the project helped the team better manage the workflow, and through the installation of a temporary registration area, the firm provided an uninterrupted experience for guests, visitors and staff. Catering to tourists, airline industry professionals and Port of Long Beach workers, the renovation introduced two new eateries inspired by the locale, and infused a coastal-inspired design complete with brass lighting, white marble flooring, custom stone artwork, curved paneling, a grey and gold color palette and natural wood finishes.
Progression of Modular Construction
Modular construction, which first gained popularity in Europe, has seen significant growth in recent years among the U.S. commercial real estate market. By 2023, it is anticipated to reach a record high of $157 billion. While this construction type is not necessarily new, much like technology upgrades, it takes time to figure out and understand the complexities of a different approach. The following are key benefits and considerations developers and project partners should know in order to lead a successful hotel prefabrication from start to finish.
Whether prefabricating walls or entire rooms, builders today have leveraged modular construction for its time and cost efficiencies. Since modules are built in a factory, they can be produced year-round, unlike traditional construction, which can be delayed due to weather. Prefabrication also allows for flexibility in construction, enabling builders to add or remove modules as needed, thereby reducing construction waste. Also, once brought to the site, modules can be assembled quickly, decreasing inconveniences – like roadblocks and closures – for the community.
While modular construction has come a long way and new techniques continue to be introduced, there are some key considerations. A main concern continues to be the trucking of large modules from the factory to the project site due to transportation limitations. Shipping modules, especially long distances, also can be problematic and costly. And while prefabrication is customizable, this is only true to some extent, as modules are not as adaptable as traditionally built projects.
Nonetheless, modular construction is on the rise and is continually evolving as new technology including AI and robotics work to improve the speed and precision of this practice. As a result, builders will need to adapt and better understand the intricacies of this methodology as it continues to play a larger role in hotel construction.
HotelExecutive retains the copyright to the articles published in the Hotel Business Review. Articles cannot be republished without prior written consent by HotelExecutive.