The Service Recovery Paradox. Does It Really Exist?
By Simon Hudson Endowed Chair in Tourism & Hospitality, University of South Carolina | March 31, 2013
Service delivery failure is likely to occur at some point in time for organizations in the hospitality industry. Though it is unlikely that businesses can eliminate all service failures, they can learn to respond effectively to failures once they do occur, and this response is often referred to as service recovery, defined as the process by which a company attempts to rectify a service delivery failure. One study of hotel customers found that their level of satisfaction and lasting impression of a hotel is based first and foremost on what happens when something goes wrong. Mostly, customers accept that mistakes happen; the problem begins when there is no strategy in place to rectify the situation easily.
Some researchers have suggested that customers who are dissatisfied, but experience a high level of excellent service recovery, may ultimately be even more satisfied and more likely to repurchase than those who were satisfied in the first place. This idea has become known as the service recovery paradox (see Figure 1). There are somewhat mixed opinions on whether a recovery paradox exists, but customer complaints about defective services may represent an opportunity for the company to improve its image and perceived quality, since it permits the company to make a positive correction or to resolve the complaint.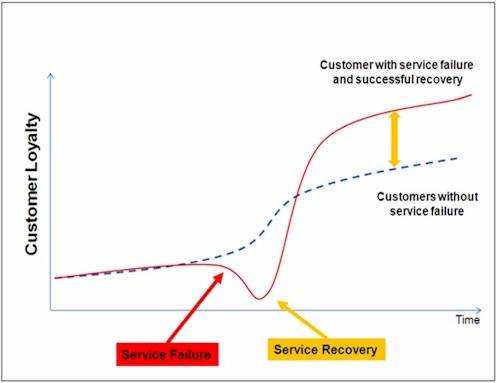 Despite the significance of the tourism and hospitality sector both economically and as a source of customer complaints, there has been little research that explicitly addresses complaining behavior and service recovery. Research that does exist is relatively recent and still evolving. Research in the tour operating sector has found that even when a firm recovers effectively from a service failure, satisfaction is not guaranteed, which is at variance with results reported by other researchers. In a study that tested the recovery paradox for airline passengers, researchers found that customer satisfaction was lower after service failure and recovery than in the case of error-free service.
A study of service failure and recovery in the UK hotel industry found that guests who were satisfied with the hotel's response to their problems, were much more likely to return than those who were not satisfied with recovery efforts. And a study in Asia looking at the impact of critical incidents of service failures and recovery efforts in a hotel, found that only complete resolution results in repeat patronage, while partial resolution and unresolved service failures served as a deterrent to the guest's return patronage. And another survey of 613 hotel guests found that guests' overall satisfaction and intention to revisit were much higher when they believed that service failure was unstable and recovery was stable.
The hotel industry involves a high degree of interaction between employees and consumers and so provides many opportunities for service failures to occur. Customers' perceptions of their experience, the so-called "moments of truth", play a major role in determining customer satisfaction and future purchase decisions. The quality of service encounters is frequently determined by the actions of front-line staff, whose experience and commitment may be limited and whose attitudes may vary from one encounter to another. Therefore, the relationship between service recovery and the different dimensions of quality perceived by customers is a topic that needs more attention.
Please Login to read the full story, or you can Get Free 30-Days Hotel Business Review
The Hotel Business Review articles are free to read on a weekly basis, but you must purchase a subscription to access
our library archives. We have more than 5000 best practice articles on hotel management and operations, so our
knowledge bank is an excellent investment! Subscribe today and access the articles in our archives.