Customer Loyalty: Win or Lose, it's the Experience that Gamblers Value Most
By Jonathan Barsky Partner, Market Metrix | June 03, 2012
Gambling has existed since ancient times with evidence suggesting that even the earliest caveman was a gambler. Many believe that gambling is taking risks, which is simply an extension of human behavior. But at its heart, gambling is a rather paradoxical behavior because.. most gamblers lose. The pure randomness of gaming -- slots, roulette, craps -- makes no sense unless you believe in luck.
So why do people continue to play when the overwhelming likelihood is that they will lose money? It is widely known that 'the house always wins'. Whether you are gambling on horseracing, blackjack or roulette, the odds will ensure a steady profit for the casino.
Why people gamble
Sociologists believe that people play because it's a social activity. Psychologists say that gambling is a response to feeling lucky or being in a good mood. Economists believe that betting is about people wanting more money, but not understanding they have virtually no chance of actually winning.
When individuals are asked in questionnaires about their reasons for gambling, the answer "to win" or "to win money" is often the most common response. This is natural, since money is the tangible reward of gambling, which makes money "the dominant language of gambling"(i). But everyone with any experience of gambling knows that the motives for participating vary considerably between games and gamblers.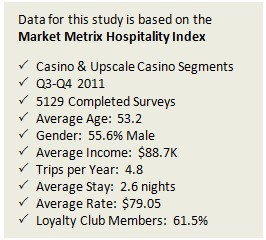 Despite the growth of the gaming industry in the past 10 years, and the recent challenges of the recession, most gaming research has neglected the primary business aspects of gaming. To help address this gap, we examined several fundamental questions about why people gamble and what makes them return and tell others about their experience. We identified two hypotheses for this research:
Please Login to read the full story, or you can Get Free 30-Days Hotel Business Review
The Hotel Business Review articles are free to read on a weekly basis, but you must purchase a subscription to access
our library archives. We have more than 5000 best practice articles on hotel management and operations, so our
knowledge bank is an excellent investment! Subscribe today and access the articles in our archives.