Editorial Board Guest Author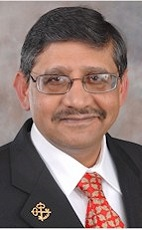 Mr. Khan
Shujaat Khan
Head Concierge, Capital Hilton Hotel
Shujaat Khan, Head Concierge of the Capital Hilton Hotel, was recently elected President of The Washington Area Concierge Association. An international concierge leader, Mr. Khan's life-long service to the concierge community is unequalled. His resume contains impressive posts including President of Les Clefs d'Or USA, UICH Zone Director of the Americas and he spent 22 years on Les Clefs d'Or USA's Board of Directors. Mr. Khan is currently the Chairperson of Strategic Partnerships for Les Clefs d'Or international.
Mr. Khan's dedication to hospitality excellence is demonstrated by his deep commitment to fostering growth and professionalism among Concierges. To help improve the service delivery of Caribbean hospitality professionals, in 2006, Mr. Khan partnered with Holly Stiel, of Thank You Very Much Inc., to create a Caribbean training program. Over 1,000 front-line staff were educated in The Art of The Concierge, delivered throughout the Caribbean. The class was also delivered in Washington DC, Miami and Los Angeles.
Mr. Khan's award winning service style earned him frequent accolades. He is a recipient of multiple professional awards, including Hospitality Star of the Year, from the Hotel Association of the District of Columbia, two Silver Plume Awards and Spirit of Pride Award from the Hilton Hotel Corporation.
Mr. Khan has initiated many philanthropic endeavors to assist local, national and international charities. His selfless fundraising efforts have raised thousands of dollars to provide assistance to victims of disasters and Concierges in need, through Les Clefs d'Or's Foundation of the Americas.
For fun, Mr. Khan had a cameo appearance with Clint Eastwood in the movie "Absolute Power." He also performed a short role in "Sheer Madness," at the Kennedy Center.
Please visit http://www.hilton.com for more information.
Mr. Khan can be contacted at +1 202-639-5712 or shujaat.khan@hilton.com