Editorial Board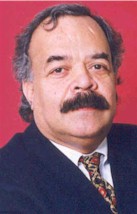 Mr. Javed
Naseem Javed
Founder, ABC Namebank International
Naseem Javed a corporate philosopher, is founder of Expothon Worldwide and now leading a worldwide movement on how to create 'supremacy of innovative excellence and business leadership performance' via high speed 'mass market penetration strategy implementation modules'.
Mr. Javed's latest work is getting global attention. He also conducts special 'CEO executive workshops' and 'global age strategy sessions' to create more powerful marketable 'high-value global corporate assets'. Mr. Javed is a world recognized authority on corporate nomenclature, global and domain naming complexities, and cyber affairs, a world-class speaker, syndicated columnist and author of several books.
Mr. Javed founded ABC Namebank some 35 years ago, led teams and personally created image personas and name identities that are still alive and dancing and created $30 plus billions of dollars in revenue for their rightful owners annually; TELUS, CELESTICA, INTRIA, GENNUM, VINCOR, DUPLIUM, AGRICORE, POLLARA, TRANZUM, INTEQNA, OMNI-TV AND ZARLINK and hundreds more. He has also helped clients on various global nomenclature complexities like IBM, GENERAL MOTORS, TEXACO, HONEYWELL, BELL CANADA, KPMG, BELL SOUTH, RBH, GENTRA, CENTERPOST, OMNI-TV, ROYAL BANK, SASKTEL, JOHNSON & JOHNSON, AIR CANADA, RADIO SHACK, MERCK, BBDO, PETROCANADA, ROGERS and hundreds more.
Mr. Javed wrote 'Naming for Power' in 80s, 'Domination, the gTLD name games' in 2012 and Image Supremacy in 2013 and Alpha Dreamers in 2019.
Please visit http://www.expothon.com for more information.
Mr. Javed can be contacted at +1 212-697-7700 or nj@expothon.com